Free Pricing Consultation | Our Seller Services Guarantee | Preparing Your Home To Sell | Agency Disclosure | Concierge Services | Moving Resources
The Best Way To Sell Your Home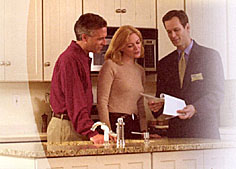 No matter how many homes you have sold in the past, selling your home can be a daunting experience. In most cases, your home will be your largest investment! You want to make sure that, when the time comes to part with your favorite castle, you will be able to get the highest and best price in the most efficient, trouble free manner, with the best terms and conditions.
Let's look at some of the factors that will effect your experience:
! Price: this will be effected by
! Location
! Size
! Condition
! Market condition
! Exposure to the buyer pool
! The counsel of an agent in whom you have confidence
! A Guarantee of service from a reputable Realtor
Obviously, price is a primary consideration in the sale of your home. If you ask too much, your home will be the reason why other homes sell when buyers find they can pay less for a similar property. If you ask too little, you will not be able to realize as much as you should at closing.
Establishing the right price means doing your homework. You will need to review the data on all the homes that are similar to yours that have sold in the last 6 months. Why 6 months? Because market conditions change, and property values change with them. With this in mind, the lenders who give mortgages will base their appraisal of the Aloan-worthiness@ of your home on the last 6 months of sales.
How do you know what homes are similar to yours? They are houses that share with yours the most similar location, size and condition. Your Coldwell Banker King George Realty agent maintains a data base with exactly this information and is probably familiar with these properties on a firsthand basis.
Location effects your home in the following way: if you have the largest, most well-kept, most attractive home in the neighborhood, the surrounding houses will have a negative effect on your value. If there are other houses in your neighborhood that are that are larger, more attractive and/or in better condition than yours, they will actually help to raise the value of your home. To put it another way, if you have a run down log cabin in a new subdivision of McMansions, your log cabin will be worth more than a log cabin in the middle of a trailer park. If you have a McMansion in the middle of a trailer park, your McMansion will be worth less that the same McMansion if it were located in a McMansion subdivision.
Size can impact the value of your home, too. It=s fairly obvious that a 3 bedroom home will be worth more than a 1 bedroom home in the same neighborhood and condition. And a house with a small den but 4 bedrooms will be worth less than a 4 bedroom home with an open floor plan and a great room. Oddly enough, though, there is a point beyond which larger size may not have a positive effect on the price you can expect. For instance, given the average size of today=s family, a five bedroom house may not be worth much more than a four bedroom house because there is less demand for a house of that size.
Condition and Exposure to the Buyer Pool are the two factors that are in your control as a seller. Your Coldwell Banker King George agent has both a pamphlet and a DVD entitled The Coldwell Banker Home Enhancement Guide. The pamphlet and the DVD are both full of great, cost effective ideas to help you stage your home for the market so that your house will stand out from the competition. Contact us today and we will be glad to deliver these to your front door. And, by the way, be sure to fix that doorbell! First impressions are lasting impressions, and your front door is the customer=s first encounter with your home!
If you find that the task of finding and comparing properties sets your head spinning, don=t worry! Your Coldwell Banker King George Realty agent will be able to provide you with data about the most comparable properties so that you can price your home competitively.
Exposure to the buyer pool... Once you have priced your property competitively (high enough to give you a reasonable return, low enough so that you=re not competing with larger, newer, more attractively located properties) you need to let all the buyers know about it. At any given time, there are xxx number of potential purchasers for your home. You can actually reach a few of them by simply putting a sign on your front lawn and an ad in the paper. Of course, if they don=t happen to drive past your house, they won=t see your sign. And if they don=t read the paper, they won=t see your ad! You need a company with national outreach and television advertising that drives buyers to its offices. And, in order to capture the largest number of today=s buyers, over 80% of whom start their homesearch on the internet, you need a Coldwell Banker King George Realty agent with access to the nation=s most frequently visited internet real estate marketing sites (Realtor.com and Coldwellbanker.com) as well as to our powerful local internet marketing site (coldwellbankerkinggeorgerealty.com) where your property will have its own web page within hours after listing.
The counsel of an agent in whom you have confidence... At Coldwell Banker King George Realty we pride ourselves on our strict ethical standards, our personal dedication to our clients and our commitment to the on-going education of our staff. When you put your trust in a Coldwell Banker King George agent, we regard it as a compliment to us and an obligation on our part to provide you with the most effective, efficient personal service available in today=s real estate industry.
A Guarantee of service from a reputable Realtor... When you employ Coldwell Banker King George Realty to market your home or property, you will receive our written Seller Services Guarantee. If we were to fail to live up to the promises in this guarantee, you would be entitled to terminate our representation agreement.
When you're ready to move to the next step, be sure to contact a Coldwell Banker King George Realty sales associate They can make all the difference!